Literature
SHEEP ATTACK
Marco Bitschnau - St Edmund's College
SHEEP ATTACK ATTACK

BITE BLOOD ATTACK BLOOD
SHEEP SHEEP MALE FEMALE
BITE BLOOD ATTACK BLOOD
FIRST FIGHT IN OCTOBER
THEN FIGHT IN NOVEMBER
FIGHT BLOOD DEAD EYE
LOST LEG MAD CRY

SHEEP ATTACK ATTACK
SHEEP ATTACK ATTACK
DISPLAY NOW YOUR BONES
YOUR NAKED COPPER BONES
DISPLAY NOW YOUR SHACKLES
DISPLAY NOW YOUR WRATH
ERASE WITH YOUR HORNS
YOUR SPLENDOROUS HORNS
THE SPRUCE AND THE PILLAR
THE KEY AND THE PALACE
THE MULBERRY TREES

AND TEMPLES ABANDONED
THEY CANNOT RESIST YOU
THEIR FLUFFY HEADS SMASHED
THEIR CARCASSES FLOATING

IN RIVERS OF HONEY

THE ORDER, A SPHINX
DESTROYED, BUT WHAT FOR?
SHEEP ATTACK ATTACK

BITE BLOOD ATTACK BLOOD
SHEEP SHEEP GENDERLESS
BITE BLOOD ATTACK BLOOD
FIRST FIGHT IN OCTOBER
THEN FIGHT IN NOVEMBER
FIGHT BLOOD DEAD EYE
LOST LEG MAD CRY

YET ATTACKING

YET ATTACKING
Languages
Dan Fodor - St Edmund's College
Uneori,
ce simt -
se vrea pe românește.
Other times,
my feelings
dance with English -
But times and times again,
they do
wanna speak
in languages
I don't
even know.
406 east 50th street
Jonathan Chan - Wolfson College
i am as tall as
the garage door now. 

i lay across the steps

that lifted boots 

damp from crunched

snow. i peer in the

kitchen, i knew it by

the finish of wooden

counters and peanut

butter breakfasts. i have

spent the week tracing

imaginary footsteps,

breathing parallel 

universes, missing 

the thoughts and values 

and friends and prayers 

that never came

to be. i see my
life, one
step removed, one world

away, one history untold, 

hidden in the swathes 

of concrete and

whispers of time.
es muss sein
Johanna Winder - Peterhouse
sun bites relentless
through the canopy –
air thick with mosquitoes
bears down on her, with the weight
of heavy dread –
humid despair
rivulets of sticky sweat
run over her pounding scalp
down her forehead, stopping
on the precipice that is her eyebrow
before crashing down onto an eyelid
in a wave of blinding, salty tears
when will this end?
my lungs – are full
of water
it will not end –
despite the advancing blindness
its asymptotic existence
results in a perpetual almost
in the icy glow of a winter moon
it is difficult to imagine
being so acutely warm
yet the dull, throbbing pain
at the base of her skull
feels so familiar
there is a spider in my head
crawled into my mouth while I slept
and now under the curve of my cranium –
it has come to rest

a web of terror shrouds her –
shivering as the city sweats
its layers of ice and snow
to birth a swollen river
whose smooth underbelly
is tarnished with scattered
glacial fragments
peel off
its broken grimy skin
scratch at healing flesh to
get to the root of the itch
scrape through skin and sinew to
get down to the bone
if I could just
get down to the bone of it all

feral night creatures
gnaw at the ghostly skeleton
feeding the earth with its
pervasive marrow
it is eating away at me and I cannot
escape the jaws of the beast

and as spring soaks the earth
she begins to unfurl her curlicue spine
and stretch her roots
like rays of that agonising sun –
she will run
deep into the undergrowth
Dandelion seeds floating out over Lyme Bay (and away)
Tom Pryce - King's College
A whirl of glistening dandelion seed,
Caught up on the spirit of a mirror that breathes:
Wonderment, an always-past moment,
Carried by the fleeting current;
A spray of snowflakes floating in space where all things which pass pass slower,
Drifting serene on the amber of afternoon sun which will make each of them a flower,
In the echoing shadow of a fisherman's line, cast from atop clay slopes of the Black Ven,
Floating across its primordial waters, trickling down melodies to rejoin the sea again.
To the waves of rippling, sleeping rows, smoothed granites and striped chrome of Lyme,
A weaving Jurassic field ploughed anew, each day by immemorially turning tide,
The spindling toes of giant's feet, at the expanse which will swallow, redeal each rock,
A gleaming silk sheet of gently rippling lilac, loosely drawn, twilight, glistening table cloth.
The swept pebbles a Labyrinth estuary, narrowing to earthen streams before tumbling falls,
Tributaries that feed seas growing to where we saw a puff of brushstroke dandelion before,
Among tall reeds which weave around the ankles of greying sheep caught just for a moment,
In the great cycle of Renoir's Return from the Field, holding us there in its silence.
The Wait
Misbah Khatana - Girton College
"Breaking a hip at 92 she won't last too long," Mansoor thought. He sipped the drink the airhostess handed him and tried to twist himself into as much comfort as his cramped airplane seat could provide. He had taken 10 days off from his job but wondered now if two weeks might have been more appropriate. There would be the funeral when his mother died, and a few days later, (nobody would think he'd wait out the full forty days generally considered proper) the feast. His mother had almost reached a hundred, people would expect him to have a grand meal and he didn't want to disappoint. Yes, he mulled wishing he could have a cigarette, perhaps two weeks would have been better. It depended when she went.
The flight there took almost a whole day and he dozed for most of the six hours of the drive from the airport to his village. He chose to sit in the back seat of the car his cousin had sent to get him, and the times when he was awake, he made conversation with the driver. Even in the air-conditioned closed vehicle he breathed the dust he had grown up in, and over the years living away, had grown to despise.
The driver pointed out sights as if he were a tourist rather than a son returning home. Mansoor ignored him most of the time and took in the mountains, fields and dust as it blurred past. It was difficult to make out anything in the horizon because of the near blinding sun. No wind blew, hardly anything in front of them moved and the intense sun made everything look hazy. Behind them was another matter; the wheels of their SUV disturbed the dry dirt track they travelled over and caused a linear dust storm that wound behind them like a sooty, sandy snake.
"What's that?" he asked suddenly.
Not far from them part of a hamlet lay in ruins. Once white walls seemed to be blackened and parts of walls and roofs had fallen in on themselves.
"Oh that was many months ago Saab," the driver said, using the title servants generally used for people of higher rank,
"Nobody lives there any more. The enemy came and threw some of their special bombs on it."
"I heard someone blew himself up."
"No, no, that was at the shrine, next to the Madrassa" The driver replied fiddling with the air-conditioning. "During the Urs, the Sufi saint's death anniversary...that was before this blast, about 50 miles from here."
"Not too near home then." He took out his iPhone to see if he could use it in his native country. "Suraya's children go to a Mudrassa don't they?"
"Her son, Saab."
The numbness of (the) age
Isabelle Burroughes - Homerton College
Pulsing in
and out
of life…
like a sequence of flashing lights.
Memory; the alluring edge of a bubble.
Asking me to pass through the kaleidoscope of pain, to remember
the antiquated past.
Roots, that's what they say, don't forget your roots.
But I feel like mine have all been pulled up, torn and devoured in the cannibalistic carnage that we call society.
Consciousness hammering
against the confines of my fragile skull.
I am like a man wrapped in exhausted lightbulbs,
A man with a soul worn down like a razor dulled
by too many strokes of the flesh.
But I am a woman who'll be recycled again tomorrow,
joining the muscles of those primordial fathers who have gone before us.
If only we could repeat time like we can repeat a song, replaying our favourite verse
over and
over
and over
again.
If only time was easier to translate
and innocence not given an expiry date.
Time…
The tick, tock,
of the corporate clock?
Or simply the change of the wind?
Zodiac
Deepa Iyer - Gonville and Caius College
I wish I had broken into two equal halves
When he left me.
Or at least, in countable parts,
With all the internal organs intact.
I hear that liver can grow again
Like heart, like new parts of brain,
When sense dawns.
But with all the bladders and coils,
That divert memories from the raw
To digested and discarded,
There is no second chance.
Blowing up into smithereens
Spurts the molten magma inside
Into indecipherable landscape, art.
You are stuck with the new carapace.
What is worse is the little things
You did not ask for,
Like sympathy wings or a pity tail.
Divorce in 26 letters
Caroline Banerjee - Sidney Sussex College
When the last train pulls away,
You take a free city map
And rip it neatly down the centre.
I get first pick.
I choose the secret garden with the stream,
The coffee shop that has glow in the dark stars,
The chip shop which
sometimes runs out of fish (and chips).
You choose the park with the sun dial,
The smiling guy who teaches guitar for a fiver,
The only hill that has enough gradient
For a plastic sledge.
We share the kids.
I watch you gather the alphabet and
Slot the letters back into dictionary order,
'U' and 'I'
Stare out at each other from border controlled pages.
I sign on the dotted line,
something falls between.
the syntax of things
Sarah Davis - St Edmund's College
the months pass and you wait for the flowers to bloom,
as always.
yesterday you pulled yourself to pieces and glued each fragment back together,
one by one,
pressing them together until you were whole again.
each part is a tiny bit off centre,
so that when you step back
everything is wholly intact but wholly new.
this is what you were built from.
here is the room with the locked doors,
the candles lit up and dripping their wax onto the hard-wood floor.
the musty air and the feeling of being fourteen
and curling yourself further into your seat
as if you could carve away a place to hide
until you're ready for it all.
here is the room with the red curtains,
the cotton bedsheets and the crumbs scattered over the floor.
the cloying heat falling through the window,
your body sticky with sweat and hope.
here is the room where you fall in love.
here is the other one.
stack them up,
line them up like books,
order them by letter, by colour, by taste and memory.
the snow falls and covers everything in hushed tones.
it melts and spells out your deepest secrets on your eyelashes.
here is the last room:
it is filled with orchids and it tastes like the ocean.
open your hands.
this is what you are left with.
this is the sculpture of disintegration.
Visita al Doctor
Luisfer Rivera - St Edmund's College
Si cruzando una mirada a los ojos con la persona, siente una vibración energética que inicia en la base del cráneo y se desliza por toda la espalda, provocando el enfriamiento súbito del raquis, y, al mismo tiempo, experimenta un brusco incremento de la temperatura en el resto del ser, entonces es amor lo que tiene.
Si, por el contrario, lo que se manifiesta es una ininterrumpida desconexión entre el circuito sanguíneo y los pulmones, como la conmoción respiratoria que se tiene previo al pánico, entonces se trata de una ilusión.
Antes de que me responda, en mi opinión profesional, ambas pueden ser letales, siendo la segunda mucho más peligrosa por sus efectos en el corto plazo, que incluirán una disminución de las capacidades cognitivas cuando se encuentre expuesto al factor contaminante, o la persona. Esto suele tener consecuencias irreversibles.
La ilusión se caracteriza por la creación continua de escenarios platónicos e ideales, en donde la persona hace y dice exactamente lo que la mente del sujeto requiere para reiniciar el proceso cerebral de gratificación y expectativa.
En casos severos, pueden presentarse alucinaciones, provocadas por la cada vez mayor necesidad de dopamina y que, afectará irreparablemente nuestra percepción de lo que es real.
Esta realidad, la verdadera realidad, es usualmente burlada con una confirmación de lo no real mediante conversaciones con personas cercanas, que no pueden evaluar la veracidad de las afirmaciones del paciente.
Grief, in translation
Ralie Belcheva - Trinity College
(transcript of a therapy session)
I wish I had the words to tell you
about the types of candles
in our church.
I wish I had the grammar to describe
the different ways to handle
covered mirrors.
But I cannot make it clearer
than a litany of metaphors
for loss - which get lost in translation;
an entire nation's worth of grief
that I cannot describe.
My textbooks never taught me
how to grieve in English too
and it's been easy to forget the loving memories
and to distinguish between the sadness and the work
when sadness lurks outside
the borders of your spoken language.
And yet I cannot sentence it
to languish, inside a pile of sentences,
untouched -
but talking is too much
and I have no strength to add footnotes.
the love letter is an epitaph
Zooey Ziller - Wolfson College
she walked amongst the sombreness
of the winter branches, doubled
hauntingly in the water, dissolved and
immaterial, and rendered as they were,
unreal. upon its undulating surface, the object trembles
and dissolves in the depths of her memory. it was
structural, there was a diffusion; in despair,
she was engulfed. now, she thought,
here the past is dictating to you.
the space experienced transcends its
geometrical reality; it becomes a great image of intimacy
lost. it consumes itself, it perpetuates itself, nobody
inhabits it, yet a consciousness it situated inside the walls.
reminiscence, rather than being a phenomenology of the mind,
is a phenomenology of the soul, a process permanently
involved
in resurrecting that which is dying, to return like
a ghost, those retrievals, whose untidy gestures coalesce and
echo throughout the past.
to walk was an experience of tiny deportations and
displacements. like Orpheus, whose steps syncopated with
the temporality
of grief, she sought an arresting rapprochement of the past.
sustained, carried in a state of eternal suspension, it
posits you, caresses you, with its gesture that is endless,
inhabiting you like
a memory; it does not fill, but allows something vacant to
settle
within, an inconsolable longing to be suffered and endured.
disembodied, disconsolate, the image of the beloved
speaks, enmeshing
itself in the tonality, the cadence,
of the past.
Jaka Lombar - Queens' College
I.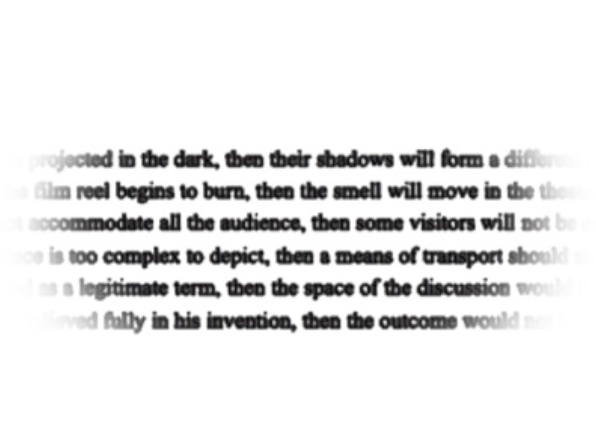 II.
Circular motion, or rather the shape of one's iris,
or rather the way a still photograph moves, or rather still
the way a force will act on all matter in equal distance,
or perhaps not a horse cut in half, or even the recycled words of
the much needed reassurance that a public is forming
around an apparatus … There is a conditional nature
in what one sees, the partiality extended beyond
the protasis and the apodosis. Squint your eyes,
and you will change the image in front of them,
as if the muscle balance can affect the movement of
the world withdrawn. A lesson on names,
or speed of pronunciation. Ultimately,
a matter of memory, but before the silence of legacy,
an adventure that precedes the flight unseen.
Of course the contingency will spill over if uncontained,
one might begin with "Ead" or "Bellicorum instrumentorum
liber, cum figuris et fictitys litorisconscriptus". Yet there is
a certain pleasure in animating a wild beast which was rendered
to a size of a salamander.
A primordial screen, almost,
where the sign has not yet fully
addressed its indexical nature, its temporal promise to deliver
movement from the centre of the surface. And in that centre
lies a point and an x.
III.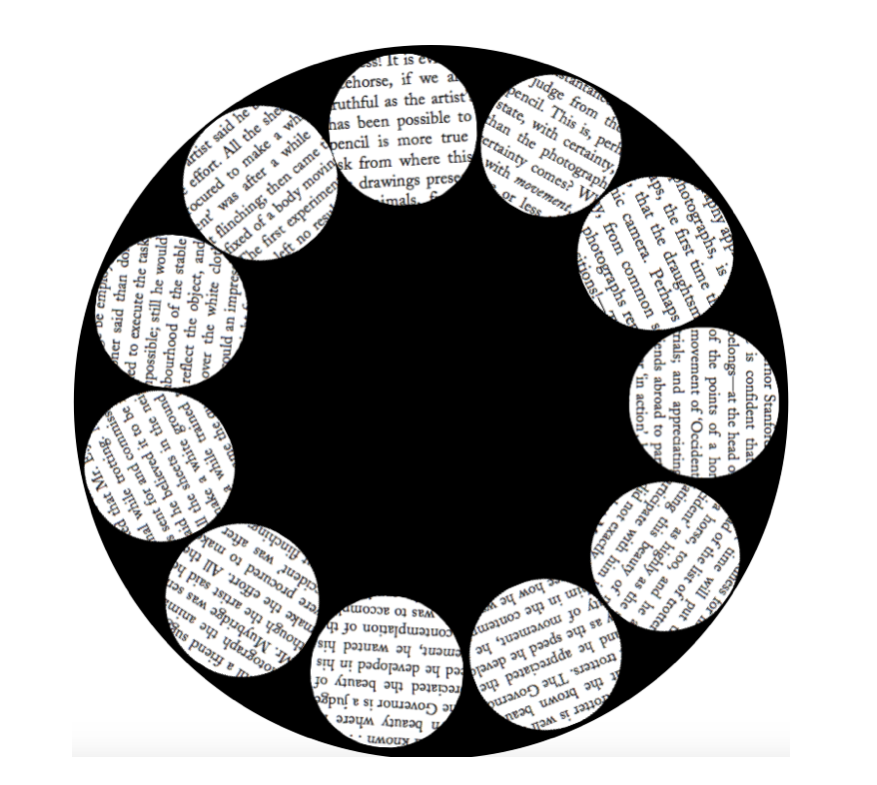 IV.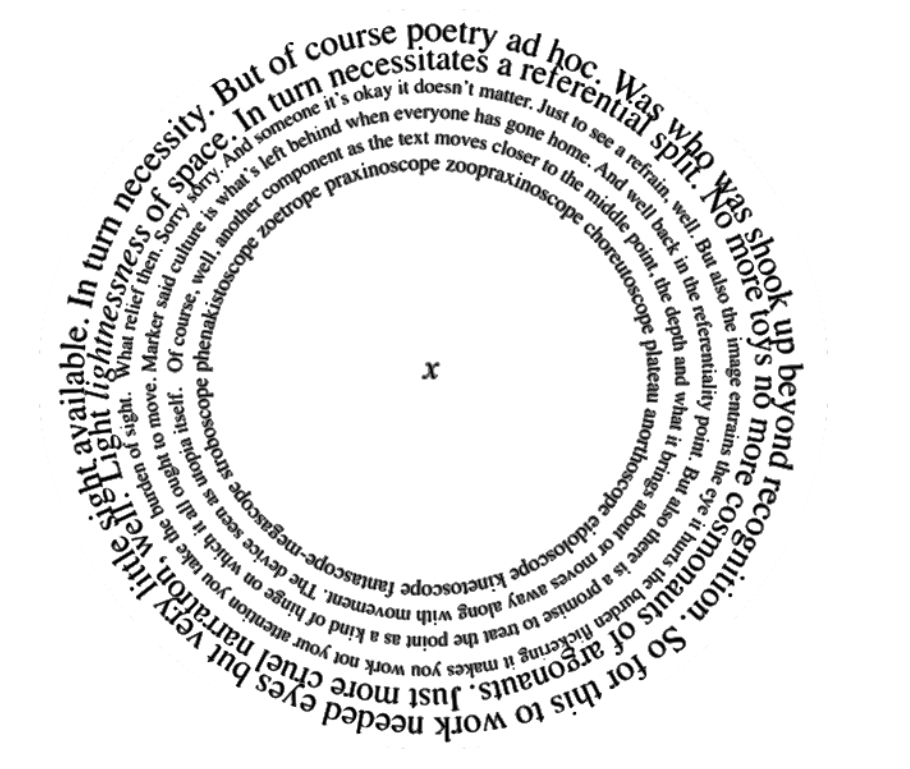 Remains of/on the Beach
Evelyne Scarborough - Newnham College

A beach walk down memory lane
re-collecting shells, souvenirs
washed up from nicer places, better times.
One grey fits all from a far, disperses into
harlequin watercolour upon due attention.
Immobile indifference at first touch, thaws into
ardent acquaintance when eagerly embraced.
Meanwhile, intrepid pearl fishers, unfazed by
deep dark waters, bring back prized bygones.
Every now and then, I hold a shell to my ear,
my back to the ocean and listen to what I don't want to see:
waters left unexplored, precious trophies never claimed.
La Regrettee, sentenced to self-castigation by salty sting for
remaining safely on the beach, then and now.
The beginning
Mariam Haji - Clare College
You say
We must get a portrait
But there is one already
In my mind
A flashing kind
Those flashing eyes
That flashing red
Frozen
And then the stage was set
Our audience
Empty stadium
Our witnesses
Ready
Queens for a second
Broke free
Ran, spin
Unfrozen
Flashing red
In motion
Moment
forever frozen
In the lens-eye
But forever treasured in my imagination.
Run, spin
Dance
Armoured together
Frolicking down the streets
So confident
we
So careless
So free
Discovery I said
Where you said
Let's go we said
In that old street
New plans unfolded
We schemers
We two planted
We sowed
We reaped
From the fantasies of Old Street
Which bloomed beyond expectation
That last day
Awkward as hell
But at least we weren't left to dwell
Searching for you in the humdrum crowd
Style
Lighting up that monochrome
Colouring my world
Garden of Poetry
Nicole Tamer - St Edmund's College
each letter is like a seed
carefully woven into the fabric
of the heavy wet words of the earth
saturated by thoughts like water
arranged by the spades of memory
returning to the roots of the rhythm
flowerbeds slowly growing into
a bouquet of intermingling leaves of reflections,
traces of observations
turning into a symbiosis
of harvested verses